---
ALL INVITED TO SUTTON MUSIC FESTIVAL GALA CONCERT
The 2019 Sutton Music Festival will come to a close at 3pm on 1 December at Overton Grange School with a Gala Concert of prize winners.  Trophies and prizes will be presented by the Festival President and Sutton Mayor Councillor Muhammad Sadiq.
The Festival took place over three weekends throughout November, and covered choral and vocal singing, instrumental and piano playing, speech and drama.  It offered participants the chance to perform before an audience and get expert feedback from professional adjudicators.
The Gala Concert is the highlight of the Festival.  It offers selected prize winners the opportunity to perform in public, and receive their prizes.  The concert starts at 3pm and is open to the public.  Admission is £2 (includes programme) payable at the door.
---
Sutton Music Festival is delighted to announce that the 2019 Festival will go ahead in November as planned.  Following Judith Burton's decision to step down as Chair and Festival Organiser after 22 years, others have come forward.  The new team will be led by David Drane (Chair) and Jo Periam (Festival Organiser).  Judith will be Hon. Vice President.  Says Judith 'I am delighted that the Festival (now in its 86th year) will continue.  I wish it well for the future, and will of course continue to give it my help and support.'
---
The Executive Committee were very pleased to host a party at the end of this year's AGM to thank Judith Burton for all she has done to lead and support the Festival for so many years. Judith was presented with a memento, some vouchers for concert tickets, and flowers. Said new Chair David Drane: 'We really are very grateful for Judith's tireless work as Festival organiser (since 2004) and chair (since 1997). I am delighted that she has agreed to be the Festival's Hon Vice President, and we look forward to her continued advice and support.'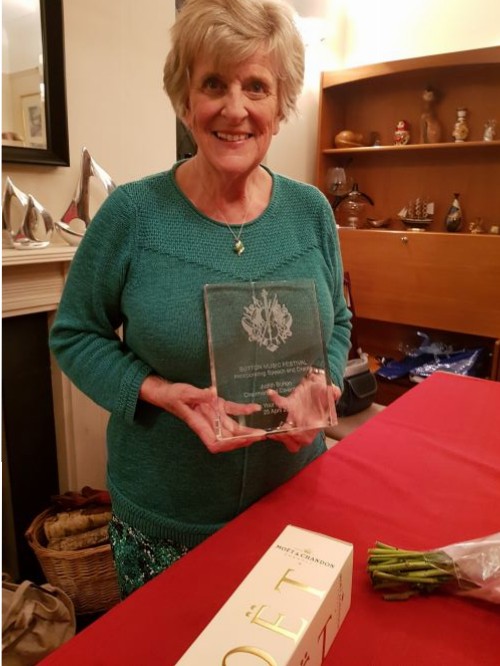 ---
CONTACT US
e-mail: information.SMF@gmail.com
Web:  www.suttonmusicfestival.org.uk
Facebook:  www.facebook.com/Sutton-Music-Festival-616423451739315/
Festival Telephone: 07706 100856
(from September to December only)

---